Judith Morton RVN
Head Nurse
Judith has been a member of the team since 2009 when she started her veterinary nurse training here and qualified in 2012. Being naturally efficient, empathetic and a born multi-tasker, she was a natural to become our head nurse. Outside work between horse riding, farming and all her auntie duties Judith isn't one to be idle, but occasionally spoils us with her amazing chocolate brownies.
Jane Benson RVN
Jane qualified from Harper Adams and became part of the O'Reilly & Fee team in 2016. She really enjoys nurse consults and is the first to volunteer for any exotics that are in. At home she has two dogs, a cat and a rabbit and at the weekend likes to practice her jiving skills.
Ellen Coulter RVN
Ellen joined our team in September 2013 to complete her RVN training and qualified in 2017. She enjoys all aspects of nursing but has a particular interest in intensive care cases. She is a keen horsewoman, has two dogs called Dusty and Blue and is our resident chocoholic.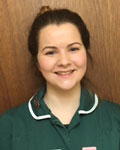 Gemma Mulligan RVN
Gemma gained her RVN qualifications from Dundalk and joined the team in July 2017. Her favourite area of nursing is with any of our more challenging medical cases as well as geriatric nursing. Outside work Gemma is a talented Irish dancer and also plays in a pipe band as well as looking after her six dogs and three horses.